This is the second article in our series on Restaurant CRM and how it can help you connect with guests. Our overview of Restaurant CRM, which is part one in the series, can be found here to get caught up.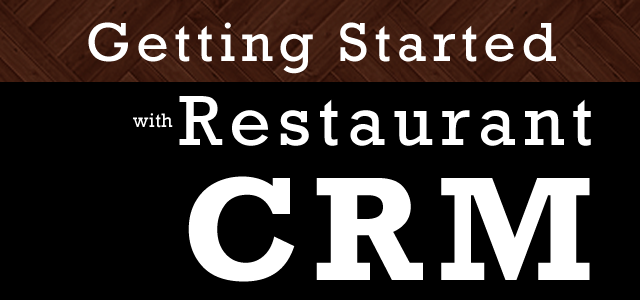 Now, let's imagine that you have customers coming in and out of your restaurant on a daily basis. You certainly know some of the regulars, but there are others whom you know their faces, but can't always remember their names.
And then there are still more whom you know nothing about.
Sound a little bit like your restaurant?
Even with your regular customers, you can't be sure if they're fans of your Facebook page, or if they're on your email list or not. You may not even remember that they like a particular variety of cheesecake that you serve.
That needs to change.
What Restaurant CRM Provides
Restaurant CRM gives you the ability to:
Know your customers by name
Earn you valuable, actionable insights on guests' menu preferences
Give you a laser-like focus for communicating with each guest through their preferred channel
Provide you with details on guest visit frequency and spend levels
…so that you can use to grow your business.
Think about how powerful it would be to walk up to a regular customer and say "Hi John, are you ordering the peanut butter cheesecake today?" If you really knew what options are out there, your mind would be blown. Or maybe it has been already?
Fortunately for you, the future you've dreamed about for your restaurant is today.
In today's post, I'm going to take a high-level look at CRM providers and some of their capabilities. More in-depth coverage of the individual providers will be coming in future posts here on NextRestaurants.com.
A Few CRM Providers You Might Know About…
When you do a search for the phrase "CRM Providers" in your favorite search engine, you're going to be inundated with no less than 15 million results. It's very easy to get overwhelmed with the amount of information that's out there, not to mention the scores of actual CRM solutions that are available.
Below, we're going make things a little easier by looking at a handful of providers focused on restaurant CRM, and briefly discussing their offerings and how they can help your business.
855-400-0445
Pricing:  $49/mo. | $99/mo. | $249/mo.
Signal, based in Chicago, IL, offers an interesting suite of CRM tools that will help you manage your customer relationships effectively.
Base CRM solutions provided:
Email marketing
SMS marketing
Social publishing (status updates to Facebook/Twitter)
Landing pages and web forms to gain new fans and followers
Text and web coupons (rewarding loyalty behaviors)
Free inbound text messages
Additional emails: $.001 each
Additional texts: $.01 each
Signal's $49/month tier includes Base CRM Solutions above, plus:
Up to 10,000 emails sent monthly
Up to 2,000 text messages monthly
Signal's $99/month tier includes Base CRM Solutions above, plus:
Up to 25,000 emails sent monthly
Up to 5,000 text messages
Promotional tools such as sweepstakes, polling, trivia, and surveys
Signal's $249/month tier includes Base CRM Solutions above, plus:
Up to 150,000 emails sent monthly
Up to 15,000 text messages sent monthly
Promotional tools
Location-specific marketing (if you have multiple restaurants, you can be target your messaging for up to 25 restaurants)
Onboarding session
Monthly program review
As detailed above, the CRM components available will vary based on your monthly fee. The system seems to be pretty turnkey and offers a lot of customization based on your unique needs. They also offer robust analytics for tracking programs and customer behavior, which is extremely helpful when planning future programs and initiatives.
408-676-7470
Pricing: $99/mo. | $149/mo. | $199/mo. ($295 setup fee) 30-day free trial
POSIQ, located in San Jose, CA, offers a variety of CRM tools that integrate with your existing point of sale (POS) system.
Base CRM solutions provided:
SMS marketing
Robust campaign/Promotion Tracking
Loyalty features
Fundraiser tracking
POSIQ's $99/month tier includes Base CRM Solutions above, plus:
Up to 1,000 SMS text messages sent monthly
$.05 each additional text message
POSIQ's $149/month tier includes Base CRM Solutions above, plus:
Up to 2,000 text text messages sent monthly
$.04 each additional text message
POSIQ's $199/month tier includes Base CRM Solutions above, plus:
Up to 4,000 SMS text messages sent monthly
$.025 each additional text message
The loyalty and marketing products offered by POSIQ are linked to customers through their phone numbers. The nice thing is that it's not just tied to a cell phone; a landline will work as well.
POSIQ also has a mechanism in place for tracking online interactions through Facebook, Yelp, and other online sources. In addition, they can also track the effectiveness of traditional ads (print, radio, TV) though unique keyword identifiers. Having a method to track the effectiveness of marketing campaigns can help justify the expense and can allow you to make adjustments if needed.
As well as having the ability to track the effectiveness of ads, POSIQ touts having in-depth analytics for measuring the success of campaigns and giving you actionable insights on your customers.
888-794-7359
Pricing: Swipely replaces your current credit card processor, matching their fees.
Swipely, from Providence, RI, offers a unique method of gaining marketing insights on your customers. Swipely uses data tied to a guest's credit card to provide you with actionable insights. They replace your current payment-processing provider, adding a marketing ability to the service for which you're already paying. Since you're already paying for processing, it would make sense to look into Swipely as an alternative.
Base CRM Solutions Provided:
Robust analytics on all credit card sales: sales by day, by hour, by item, sales compared to prior periods,
Marketing and campaign management
Loyalty rewards
The system works with every major POS system.
408-940-1342
Pricing: Each program is customized for independents and chains.
Punchh, out of Sunnyvale, CA, is a mobile marketing automation platform geared specifically for the restaurant industry.
Punchh touts being able to put loyalty cards on phones, rewarding customers for not only their repeat business but providing the business with referrals. The service provides the ability for restaurants to give their customers social tools to generate business. These include reviews, invitations and gifting components. The service also include group sharing for cause-based campaigns and group rewards.
Base CRM Solutions Provided:
SMS messaging
Email marketing
Real-time campaign measurement/analytics
Built-in reviews and guest feedback
888-424-9666
Pricing:  $39/mo. | $79/mo. | $109/mo. | $259/mo.
Eateria from Naperville, IL, offers a variety of CRM solutions for your business at a variety of price points.
For all plans, if you prepay for the year, you'll get two months for free. The other noticeable difference between Eateria and others is that their service is based on the number of members, not the volume. If you plan on sending a lot of text messages or emails, you certainly may want to keep this in mind.
Base CRM Solutions Provided:
Unlimited Email Marketing
Unlimited SMS Marketing
Unlimited Social Media Publishing (Status updates to Facebook / Twitter)
Text and Web Coupons (Loyalty)
Analytics
Eateria's $39/month tier includes Base CRM Solutions above for up to to 1,000 subscribers. The $79/month tier includes up to 2,500 subscribers. The $109/month tier includes up to 5,000 subscribers. The $259/month tier includes up to 10,000 subscribers.
Conclusion
These five highlighted providers offer a wide variety of services to help you grow your restaurant; they're not an apples to apples comparison. They're not just POS providers with some bells and whistles. But they're also not just loyalty marketing providers. They are, however, just a sampling of the many companies that are available.
There are plenty of others, as diverse as industry heavyweight Fishbowl, to fast-growing upstart Belly, to LevelUp, to LoyalBlocks, to SpotOn, to Venga…
It's important to consider that each one of these providers have a variety of solutions that are customizable to your specific needs. However, one size doesn't fit all and it's best to speak with a variety of providers before deciding on one. Pricing and services may vary and are subject to change, too.
So now that you've gotten a taste of CRM providers, it's time for us to delve into using the service to grow your business. In part three of our CRM series, we'll talk about the various CRM components that are possible in building your restaurant CRM, and how to use each for your business.