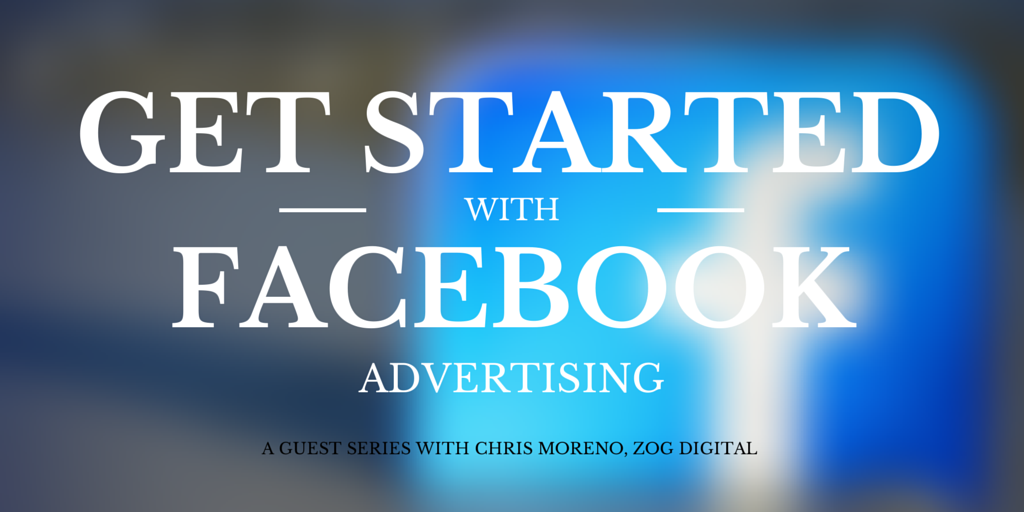 Editor's Note: This is the second post in a comprehensive, five-part series on Facebook advertising. We've invited an expert on this subject, Chris Moreno with Zog Digital, to write the series for NextRestaurants readers. Chris previously worked at Facebook and now heads up the paid social media advertising team at Zog.
Last week we detailed exactly why every restaurant marketer, from single-location establishments to chains with locations spread across the United States, should invest in Facebook advertising. Today we'll break down the multitude of advertising options available on the Facebook platform and how each of them can help increase brand awareness, build loyalty, and increase sales.
Marketers can place Facebook ads in two main locations, in the news feed or on the right-hand side of the screen. In an attempt to increase the effectiveness of the right-hand side ads, Facebook recently decided to boost the size of the ads, making them easier to notice and read. Meanwhile, newsfeed ads, which can come in many different forms, show up for both mobile and desktop users right next to updates from friends and family.
Both newsfeed and right-hand side ads can be customized to the needs of restaurant marketers and maximize the impact on users. Below is an illustration of the basic pieces of information included in every single ad: the name of the business, the content or message, a visual asset such as a picture or video, and an optional call to action.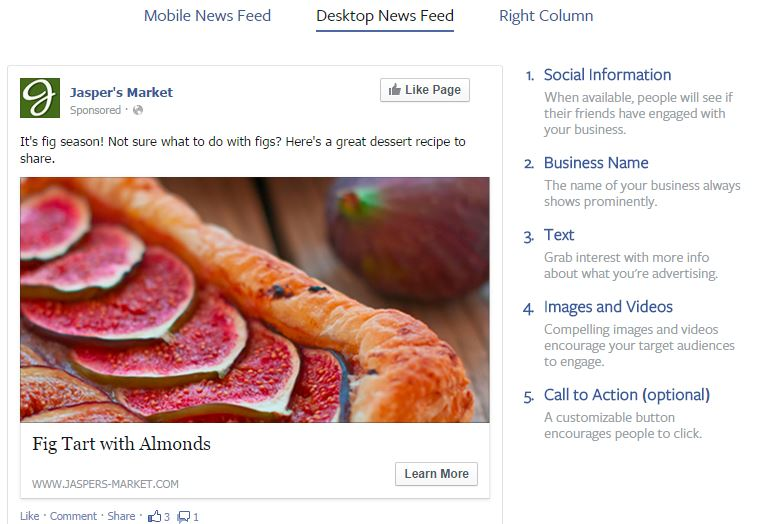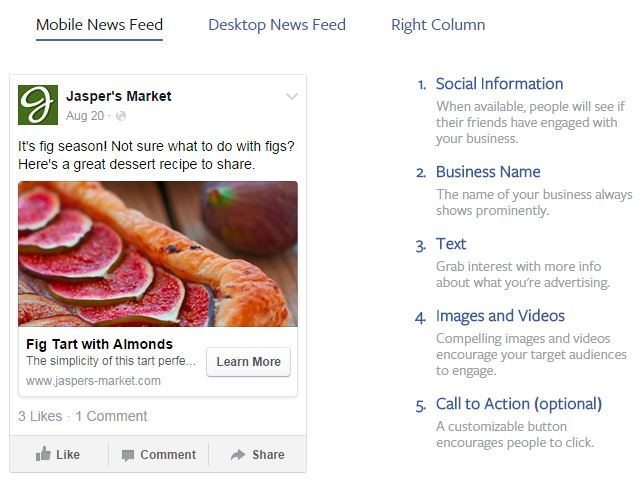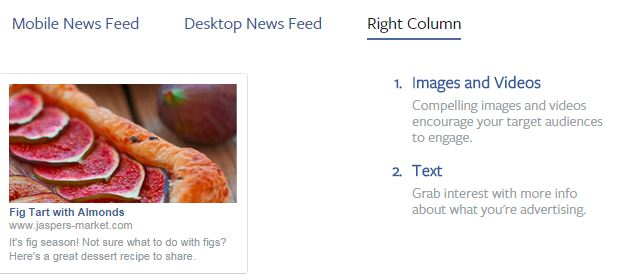 Advertisers can go even further by customizing Facebook ads to help create the most quality advertising content possible. How each ad should be customized is based on the desired results of the ads; be it gaining page likes or clicking a link, which leads the user away from Facebook.
Some examples of optimized Facebook posts include these four strategies.
1. Link Page Ads
Link page posts use a call to action such as a discount offer to drive Facebook users to a restaurant's website. Link page post ads should always include a clear call to action along with a statement of value, which grabs the attention of the user and encourages them to make a proactive move to follow the link.
2. Photo-Based Ads
Studies have consistently shown Facebook posts that use images receive more engagement in the form of likes, shares and comments. For restaurant marketers, every post possible should use high-quality images because of the impact on engagement. Engagement positively influences organic, spreading the message to consumers who are not already fans.
3. Video-Based Ads
The advantages of including videos include attracting more engagement than any other type of media. Restaurants can use video ads to encourage page likes and engagement, and help move users to the restaurant's website. Restaurants can make videos about daily specials, happy-hour cocktails, specialty desserts and coupon deals, and then use these elements as content to promote posts to help increase sales.
4. Like Ads
Instead of encouraging a user to move away from Facebook, these ads directly influence the user to like the restaurant's page. Each additional like allows marketers to more accurately create target audiences of likely consumers, both from fans themselves and look-a-like audiences, which is very valuable in the long run. Like ads can be found both in the newsfeed and on the right-hand side of the screen.
Conclusion
With Facebook's advertising options, restaurant marketers have the tools available to affect Facebook users in a variety of ways and accomplish the company's end goals. However, the varied advertising options on Facebook are only the beginning. For restaurants, the biggest advantage of using Facebook advertising is in the ability to target specific groups of people and push targeted content to consumers.
Next week we will dive into the deep targeting options available on Facebook and how restaurants can use them to dramatically increase the effectiveness of Facebook ads, lower costs, and increase sales.