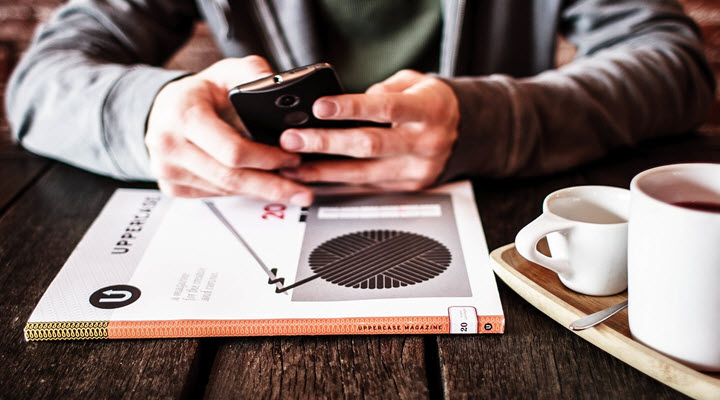 Mobile payments are clearly a hot topic for restaurants. It's not just about EMV.
Despite all the buzz about mobile payments, it can frustrate a restaurant owner who's open to adopting a solution, but has no idea where to start. We published an article introducing 10 mobile payment options for restaurants some time back.

So how has one restaurant owner and operator approached this?
Matt Simmons runs Capital Ale House in Richmond Virginia. He's also the President of the Virginia Restaurant Association.
He's very aware that restaurants need to be forward-thinkers when it comes to technology. And not just from a marketing standpoint, but in terms of operations.
He's very aware because he, himself, is one of those forward-thinkers.
Matt recently made two major decisions regarding technology in his restaurants that he should utterly transform how he runs them, while also improving service and his marketing potential. One of these decisions we'll address in a separate, follow-up article. For today, let's talk about his approach to mobile payments.
Here's how Matt Simmons approached mobile payments for Capital Ale House
He adopted Zapper.
"Trying to stay on top of restaurant technology is very hard," Matt says. "Zapper contacted me, but I had heard of them through other restaurants with whom we share customers."
---
Are you ready to get started with adopting mobile payments at your restaurant? Download our easy evaluation and implementation checklist with the form above!
---
Zapper is an app-based, scan-and-pay mobile payments platform. A small piece of hardware sits between your POS and printer, adding a unique code to each customer's receipt. The customer can then scan that code with the Zapper app to pay via their linked credit card.
"We're an upscale casual brand. What I was looking for was a way to present the check in a nice way that would also allow me to accept mobile payments. Millennials are very tech-friendly, but we still needed something easy to implement and low-cost."
Capital Ale House was looking for a solution that could be easily incorporated with staff, was low-impact in terms of hardware and POS integration, and came across as straightforward for customers to use. All that with low transaction fees.
For Matt, Zapper met all of those criteria. We've since learned that Zapper's transaction fees are at 1.8% of each transaction (at the time of this article), much lower than several other alternatives we're aware of.
Matt's comments also bring up an important point: the patience required in general with new technology.
It's wonderful that some are reporting increased tips for your staff when these types of solutions are implemented, but restaurant operators need to accept the fact that any solution may be slightly more complicated to implement than you're accustomed to, or may take some to gain adoption with your customer base.
"We had a small issue or two when we installed. One small, additional piece of hardware was needed to connect everything, and there was a brief glitch with our POS. But that was resolved easily."
"Staff training was really straightforward. Most of my staff is under 30 years old, so they're very comfortable with new technology and it was fast to get up and running. We can also customize the messaging that goes along with the code people scan, to get them to come back again sooner."
There's a whole roundup of apps available to help restaurants accomplish similar results. We've previewed some. But the key is making sure you've chosen a platform that's right for your business and your employees.
Is Zapper ubiquitous? No. Is any mobile payment solution? What that means is, you shouldn't count on a mobile payment solution being a key to new customer acquisition. It could help with customer retention and loyalty. And it should help with the speed of table turns, which positively impacts the customer experience.
But don't expect a miracle. In this case, expect a positive evolution to how you close out checks.
Speaking of POS…
Matt is not happy with his legacy POS system. So he also was looking for a mobile payments option that would continue to work when he makes the switch. It may not surprise you that he's super-close to switching to one of the upstart iPad-based POS providers.
The problem with many of the legacy POS providers is that they want it all. To integrate with them is a nightmare for everyone but the biggest, longest-standing, well-funded restaurant tech providers. So the scrappy upstarts are working with the new wave of more open-minded POS providers in the restaurant space.
Matt gets nearly zero insights on his transactions from that current POS provider, despite them owning nearly 1/4 to 1/3 of the restaurant POS market. And while the Zapper solution isn't 100% to the point he'd like it ("I think they could use some work on their dashboards and consolidating reporting for multi-locations; we've got 5 locations"), he's been very happy with the support and how responsive he team has been.
And how about this: Capital Ale House runs a huge Oktoberfest which draws about 10,000 people to its Fredericksburg location. It's outdoors and the restaurant can't have its POS there — they sell beer tokens cash only. They're in talks with Zapper to handle those payments, to minimize the logistics they put in place to secure their cash.
This is the future, folks.
What's up next for Matt? He's already adopted another restaurant technology solution, as mentioned previously. That one, he says, is an industry game-changer. And he doesn't use that word lightly. Here's your teaser: within six weeks of implementing that solution (to be discussed in a follow-up article), he's seeing tremendous and customer-specific data on overall sales, the success of specific menu items, and profitability. Stay tuned on that front.
Mobile Payments Don't Have to be Daunting
There are numerous off-the-shelf mobile payment options out there that you can accept, without having to transform your restaurant's operations or hardware nor roll out your own custom restaurant mobile app.
Take a look at Zapper, Tabbedout, Settle, and MyCheck for starters.
Learn from Matt Simmons at Capital Ale House and get going.