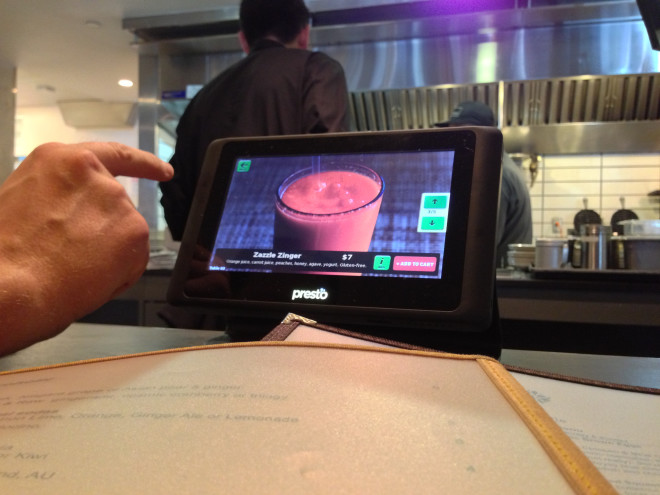 The momentum is picking up for tablets and restaurants.
I've got three things you need to consider before committing to deploy tablets in your restaurant — and this isn't aimed solely at casual dining restaurants.
But first a quick industry update:
The Current Landscape of Tablets in Restaurants
When you follow restaurant news closely, you come away with the notion that tablets are primarily about the table experience in casual dining restaurants.
Every Chili's (over 1,500 locations) now features the Ziosk tablet, an Android-based tablet that allows guests to order appetizers and desserts, play games, and settle their bill. Ziosk will also deploy their tablet in every Red Robin, every Smokey Bones, and every Abuelo's this year.
Every Applebee's (over 2,000 locations) features the E La Carte tablet, an Android-based tablet, in order to allow guests to do the same. That is over 100,000 E La Carte tablets, pretty breathtaking.
Every Buffalo Wild Wings (over 1,000 locations) features the Buzztime BEOND tablet, an Android-based tablet, which currently emphasizes games, but will be updated to include tableside ordering capabilities at some point.
Update November 2015: We're now hearing that every Old Chicago and every Buffalo Wings & Rings may soon feature tablets as well.
So again, in the case of Chili's, Red Robin, Smokey Bones, Abuelo's, Applebee's, and Buffalo Wild Wings, we're talking about a tablet in the hands of customers, which takes pressure off your staff and allows them to focus more on hospitality.
Tablets in the hands of customers lead to higher tickets & higher tips
Software Advice put out a recent study suggesting customers are very excited about the ability to orders themselves and close out their ticket when they're ready — and it can dramatically impact tipping. (As an FYI, they have an interesting comparison of iPad POS options. Check it out.)
Click below to take a look at their report:

We've also touched on tablets in restaurants once before.
But consider these two pieces of news as well:
Every TGI Fridays (over 900 locations) will feature a Windows-based, Micros-powered, Dell tablet that will allow servers to input orders for guests.
Every Smoothie King (over 600 locations) will feature Revel as its POS platform at counters, an iPad-based solution.
But things have progressed.
So here are five things I think you need to consider about tablets as you weigh whether or how YOUR restaurant deploys them.
1. How do you want your customer experience to evolve?
The mobility of tablets make them tremendous weapons in your efforts to improve order accuracy, collect data on guests, streamline operations, and transform the customer experience. But you've got to start with those last two areas.
Do you NEED to transform the customer experience? If not, you can still gain tremendous cost benefits from deploying tablets in your restaurant. iPad-based POS, that remain positioned on the countertops of your QSR locations, can significantly slash costs, secure data, and save space.
Solutions like those offered by Leapset, Revel, and others provide outstanding foundations for a combined POS + Marketing powerhouse.
No change to the customer experience, sweeping improvements to your operations.
On the other hand, maybe you DO want to keep guests (and/or their kids) occupied and entertained? That's what the Ziosk, E La Carte, and Buzztime BEOND platforms provide.
Get this area straight in your mind before taking any further steps.
2. Will your tablet be fully integrated with other marketing platforms?
When talking to tablet providers, ask whether their platform — whether it's customer-facing or POS and operations in its focus — will integrate with other marketing platforms behind the scenes. Have they done integrations before?
For example, will you be able to instantly add guests to your e-club or text-message list…or are you going to end up with multiple databases of guest emails?
This is important not just for the POS-focused tablet providers as it is the tableside providers. At this point in the evolution of restaurant technology, you do not want multiple, disconnected databases of guests. Work with the right partners who are open-minded about this.
3. Hardware wears out. What's the upgrade plan?
Hardware wears out. You know this with your personal and company computers and laptops. Even your own mobile phone.
Those flashy tablets sitting on your tables look great and are blazing fast TODAY…but will they be in three years? Tablets in restaurants are going to be subjected to hot and humid conditions; they'll have food and drink spilled on them; they will be dropped. The internal "guts" of those tablets will wear out — the components will have problems. The screens will grow dim or pixels will die.
So, what's your tablet provider's upgrade plan? How will you restaurant avoid facing a significant re-investment in tablets in five years or less, when these things happen?
Also, Apple and Google update their operating systems for tablets regularly. But just because a feature is announced for either platform, that doesn't mean it will be available for your tablets. Hardware limitations may mean your tablet can never have Feature X.
Summary
I'm bullish on tablets in restaurants. We'll all ultimately get used to them — yes, even Baby Boomers. We'll ultimately embrace them, just like we ultimately embraced ATMs and self-checkout in retail establishments.
But if you want to make them work in your restaurant locations, you need to think strategically about your restaurant customer experience, how tablets' data collection will be integrated with your existing marketing platforms, and what the hardware upgrade plan is for your chosen vendor.
(Photo courtesy of Jason Tester Guerrilla Futures.)