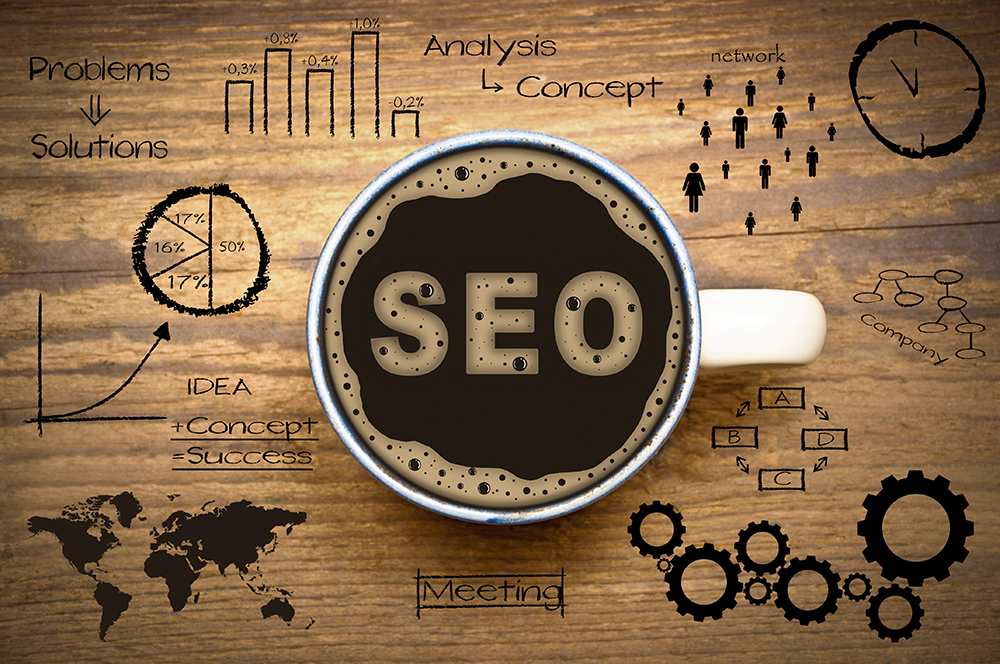 There is a whole side of the internet most people are completely ignorant of.
Behind every web page is a wide array of coding knowledge that goes into creating it. Even if you have created a website without a drop of knowledge about coding, it's still there. Want to see the underpinning of your site that makes it what it is? Go to your website and click Ctrl+U to see it.
This part of your site may not make much sense to you, but to a search engine like Google, this coded area of your site is essential. It's here that bots from search engines crawl your site to try to determine what each page is about, what your business does, and identify important keywords. Then the search engine catalogs your site, indexes it, and tries to match it to relevant searches based on specific algorithms.
Search engine optimization (SEO) is all about making it easier for search engines to find out about your restaurant and classify it properly — so when somebody searches a relevant term or word, your site will show up in the search results.
Here, we are going to cover some of the basics of SEO for restaurants and some new developments that could help you rank better with Google.
The Bare Basics: Title Tags, Metas, and Keywords
In a simple simile, a search engine is like a massive library containing the entire internet. To be able to find anything, there needs to be some form of organization; SEO ensures you get placed in the right part of the library.
Title Tags
To start, on every page of your site should be a title tag. If you are looking at the source code on a page, the title tag looks like this: <title>Your Title Here </title>.
The title tag is the first place search engines look to determine what your page or post is all about. If it's a blog article, it makes sense for the title tag to match the article's title. But for other pages, your title tag needs to explain easily what the page is about.
For example, the page that hosts your menu should be titled your restaurant's menu. That way, the search engine can easily catalog that page so when a person searches "*Your Restaurant's Name* Menu," that page will show up.
Meta-descriptions
Meta-descriptions are the next basic part of SEO. What's interesting about meta-descriptions is that Google actually doesn't analyze them. Instead, when your page shows up in a search result, the meta-description is what shows up to convince people to come to your site. It's basically a 160-character pitch to why they should click on your link and not those around it.
A good meta-description should explain what is on the page, why it is what visitors are looking for, and be an indication of the quality of your site. If you don't set a meta-description, Google will try to fill it in for you, possibly just taking whatever text comes first on your page.
Keywords
Keywords are the last bit of beginner insights to SEO. Keywords are popular search terms that relate to your business. For example, if you run an Asian restaurant, keywords like "Authentic Asian restaurant," or "local Asian cuisine" are keywords you want to rank for.
To do this, you need to include these keywords in your title tags and throughout your website's content, such as your headline and body text. That way, search engines can pick up on focuses your restaurant has, ranging from broad themes like what kind of food you provide, to specific services you offer like gluten free foods or delivery.
Just don't overuse keywords, or try to manipulate the system. Only use keywords on pages that are relevant and avoid awkward keyword stuffing. Google will know and penalize your site if you do. Keep the writing and keyword adding natural.
Schemas & Your Menu
A schema is a way to organize large amounts of data. It is often used in SEO to help sites better organize their information. Schema.org is a project to help create standardized ways to present information for search engines. The purpose of this is to help people find the information they are looking for more easily and better catalog the internet.
Schemas are important to your SEO, as search engines take note of them. Utilizing proper schemas can help people find your site when using a search engine like Google. These schemas aren't for visitors to see, and sit in the coding for your pages.
Schema.org recently released new schemas for restaurants to help specify different things your restaurant does. There are ways to mark up your menu so Google can catalog each food and drink item, along with prices and ingredients. You can also include what hours your business is open, forms of payment you accept, or if you accept reservations.
One important schema you should include is one for your physical address. This can ensure search engines know exactly where you are located, so you'll show up in local search results. There is a lot more you can do to help search engines understand your site, so poke around the different schemas and compare them to what is already on your site.
Further Optimizing Your Site
SEO work is always ongoing, and you can always improve your site. There are a ton of factors that are considered when search engines look at a site. This can include: how secure your site is, what links on the web point to your site, how often you update it, and what content strategies you use.
If somebody built a site for you, it's likely that they probably handled a lot of the initial SEO work for you, but check their work. You can always check what they did and improve upon it. If you built your own website, or are building one currently. Many website building programs can help with the technical side of SEO but might miss parts like important schemas. Some will let you edit the coding on your site, while others restrict what you can do.
Now, SEO work is not an exact science. What works for one business might not work the same for you. As you implement changes on your site, always track their performance. Utilize both your site analytics and monitor how the pages are ranking. Make tweaks as needed.
When it comes to SEO, the best place to start is to learn the basics, and set up schemas for your site. From there, you can learn and do more work on your site, so you can rank better and get more traffic.
Do you have a question about schemas you want answered? Have a success story about SEO and your restaurant getting more business you want to brag about? Share with us in the comments below.