There are 1.8B monthly active users on Facebook (Source: FB latest financial disclosed on 11/02/16)
Age 25 to 34, at 29.7% of users, is the most common age demographic.
41% of US small businesses are on Facebook
Organic reach of Facebook posts ~ 2%
With these kinds of stats it is imperative that independent restaurants put their best foot forward on Facebook. In this blog, we talk about different tools and strategies to analyze your Facebook page performance, what you need to do in order to fix chinks in your armor, and a brief about Facebook advertising options.
Analyze Your Restaurant's Facebook Performance
Analyze: Our go-to tool to analyze is "Likealyzer" which examines your page on a 100 point scale. It provides information about how your page is doing on multiple factors and provides insights into what kind of corrective action you can take in order to increase your score.
Another cool feature is the statistics page which provides information about different pages in different categories across different countries. You can use this to find the best page in the same industry within the same country and see what aspects you can copy from that page.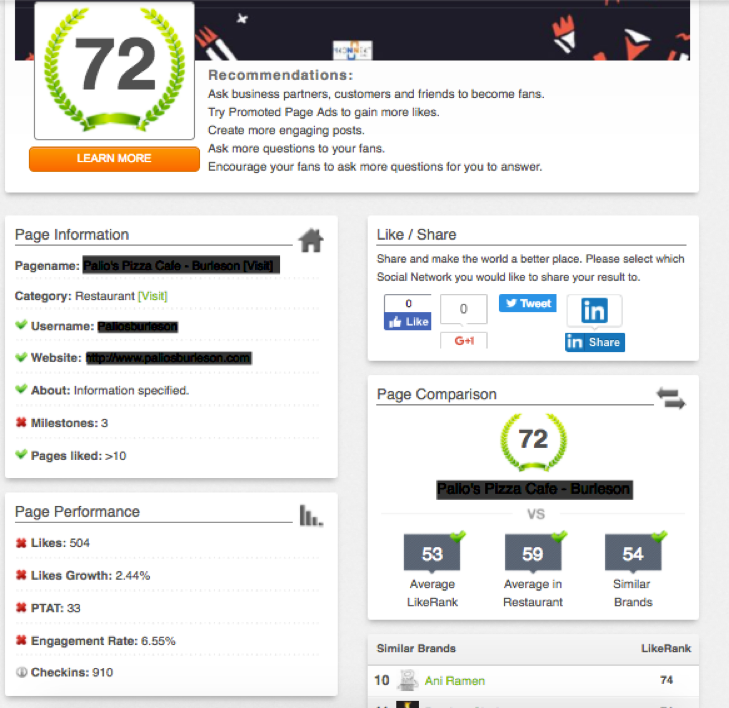 AgoraPulse Barometer: This requires you to login using your Facebook page. It provides your page performance intel based on your posts and compared against other pages in the tool database. The issue with this comparison is that it compares against all pages and is not restricted within the same category. AgoraPulse has some other free social media tools that you might find useful.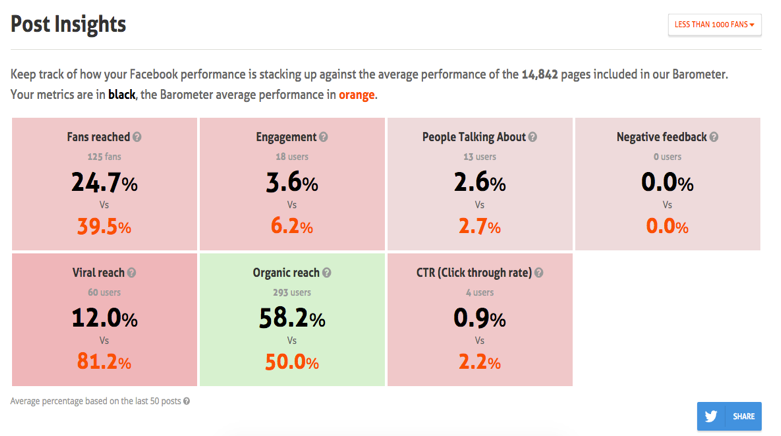 Social Bakers: This grounds creates a report comparing your page against your competitor and sends it right into your email. The report analyzes page audience and audience growth, as well as showcasing which content is effective from an engagement perspective. The downside is it generates reports for only a week at a time. Apart from the Facebook page analysis, there are a number of other free tools that SocialBakers provide.
Optimizing Your Restaurant's Facebook Page
After page analysis, the next step is to optimize the page with information that your guests (or potential guests) are looking for. Having the right user name with an appealing cover picture with accurate dimensions and having a CTA button to gather customer information are the characteristics of an optimized Facebook page.
The infographic (below) details the six main areas that one has to concentrate. Apart from this, the "Page Info" has to have the right information which includes your business phone number, email ID, etc.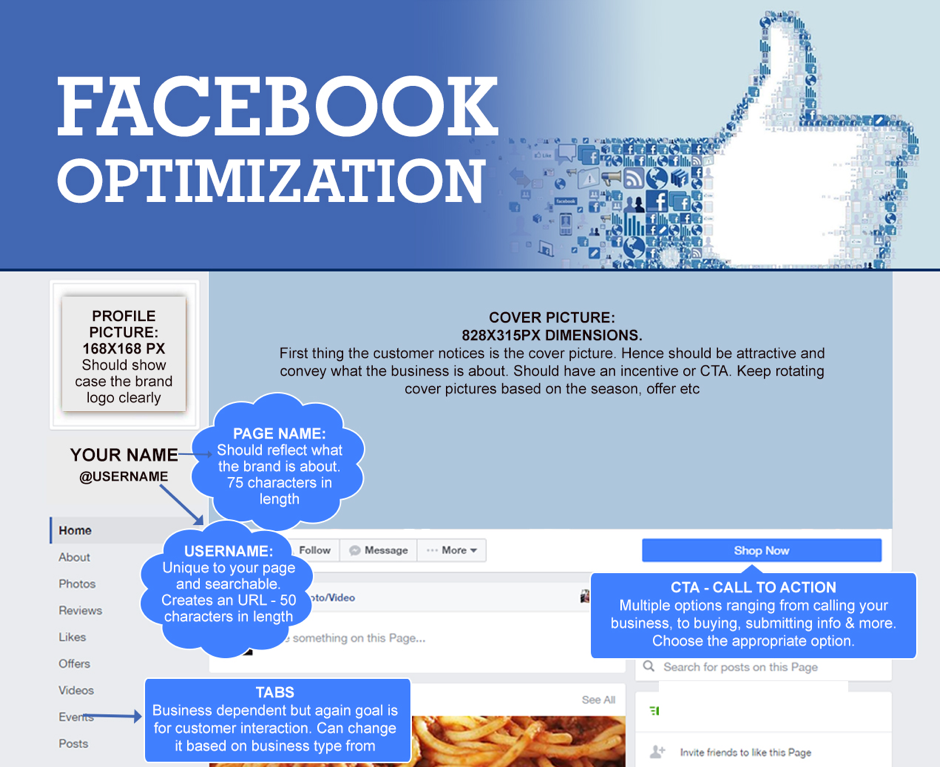 Content is the King
Now that we have our page optimized, it's time to turn to the most important aspect of a business page – content.
Having the right content is what makes or breaks a page. Here are some useful guidelines to follow when creating content for your restaurant's Facebook page:
Understand who your followers are – typically your guests or potential guest. Look at Facebook Insights to get an idea about a typical customer profile. Understand what they are looking for, what appeals to them, etc. You're in essence building a mini buyer persona.
Come up with a content strategy based on your customer needs. Your content should have a mix of pictures, videos, and user-generated content.
The primary purpose is to elicit follower engagement. Your content should include a mix of questions, contests, and offers. It all should be planned out ahead of time. Content plans give an outlay of what all content is planned for a given period of time
Use the above analysis tools to keep checking as to whether the content you have created is working along with timings, etc.
Analyze your content to see if it meets any one or more of these criteria – Awareness, Customer Engagement and Business Development/Sales.
Boosting Your Content
With organic reach hovering around 2% nowadays, it is imperative that you have to spend some money on advertising on Facebook.
Fortunately, the impact of your ad dollars go a very long way. You can choose your target audience for your ads, set budgets and also analyze the effectiveness of your ads. Facebook provides you with a range of tools based on your campaign objectives, including calculating the effectiveness of these campaigns.
Choose the objective for your campaign – brand awareness, generating leads for your business or people to claim your offer
Define your target audience using Facebook's detailed targeting parameters, location and budget
Come up with the visuals that would go with the campaign – you can either create a single image, a video or a slideshow. Your images' text should be within the 20% limit and you can check it using this Image Text Check tool
The below screenshot gives you an idea about how you can effectively plan your advertising campaigns and what kind of tools that Facebook has to offer you.

By following the above strategies your Facebook page should be seeing a marked improvement. Do let us know if you have adopted any other strategies that worked for your page and how you have monitored the success.